The Four Competences We Strive to Cultivate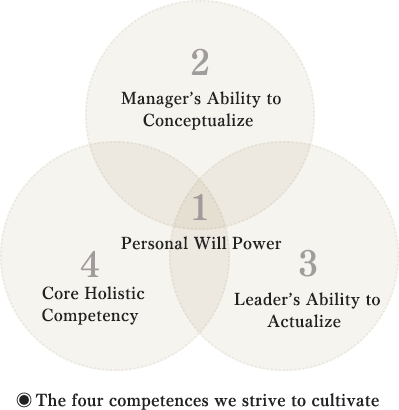 1. Personal Will Power

The capacity to acquire a sense of mission, act with vision and at the same time continue to grow as a person through constant self-awareness and questioning

2. Manager's Ability to Conceptualize

The courage to ignore convention and the weight of the past and push ahead with long-term goals for business activities and management

3. Leader's Ability to Actualize

The ability to drive creation and innovation by leading oneself (i.e., initiating action and setting an example for others), to deal earnestly with people, and to win their empathy and trust

4. Core Holistic Competency

The ability to make decisions and take resolute actions based on firm beliefs and principles, supported by a sense of self-awareness and social responsibility
The Six Qualities of a "Whole-person" Manager and Leader
1

Self-motivated

We seek to develop self-motivated leaders who take on innovation and creation, not armchair critics who talk about things in the abstract; we believe that awareness comes only through practice.

2

Eye on the Big Picture

Shizenkan does not intend to nurture specialists of or by function. We will develop managers and entrepreneurs with a holistic, long-term view who can personally oversee a range of functional activities and organizational operations while being buffeted by environmental changes, tides of innovation and paradigm shifts.

3

Empathy

It is said that a third-rate leader wins people over with titles, a second-rate leader wins people over with knowledge. A first-rate leader convinces with personality and character. Shizenkan seeks to develop leaders who back up their ideas with logic, convey those ideas to people passionately, win their empathy and trust and cause a ripple effect throughout organization and society with their ability to inspire and lead.

4

Social Consciousness

We seek to develop "holistic" leaders who do not change their opinions or behavior according to the situation, who are consummate business professionals as well as members of the community, and who are able to take on responsibility for the future of society.

5

Open to Diversity but With a Strong Sense of Identity and Self-Esteem

In a globalized world, leaders must accept diversity, which we believe requires having a strong sense of personal identity. Our students will be sensitive to differences and seek not look at things in a narrow-minded or parochial fashion.

6

Independent and Autonomous

Shizenkan seeks to develop leaders who are not dependent on the validation of the people around them or of the public, but who can judge and act based on their own values, beliefs and principles - and who can take responsibility for the consequences of their actions.