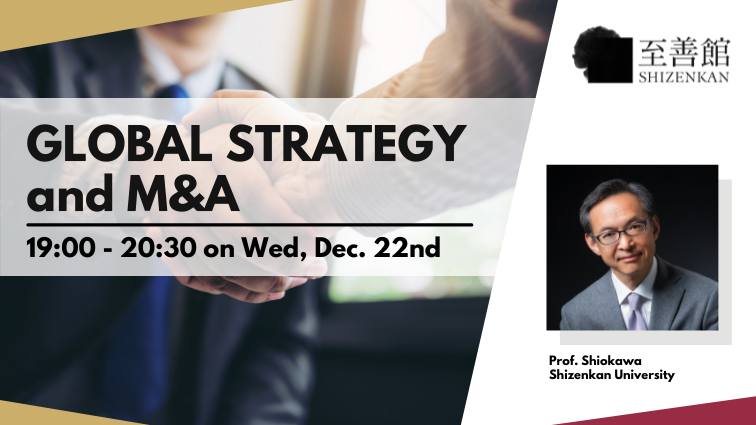 "Global Strategy and M&A"
Dec. 22nd (Wed.) 19:00-20:30
Speaker: Prof. Tetsuya Shiokawa (Shizenkan University)
The uncertainty in the global economy caused by COVID-19 is gradually disappearing, and business leaders are being forced to reconsider their post-COVID strategies.

As in the past, mergers and acquisitions (M&A) will continue to be an essential strategic tool for global expansion of companies after COVID-19. Despite macroeconomic concerns over inflation, changes in taxation policies, and increased regulation and scrutiny in countries around the world, the global M&A market is expected to become more active by 2022.

In recent years, M&A have been considered an integral part of global strategy. As a matter of fact, both the number and the size of the deals of "in-out" M&A(acquisition of a foreign company by a Japanese company) have been increasing. However, it is often said that 80% of M&A deals failed. How do these failures happen? What can we do to lead M&A to success, executing global strategy efficiently?

Under the current VUCA situation (Volatility, Uncertainty, Complexity and Ambiguity), in order for companies to succeed in M&A, it is critical that they improve organizational capabilities to plan and execute their global strategies. In this session, we will examine past global M&A cases and unravel the root causes of past M&A deals' failures to explore critical key success factors for M&A after COVID-19–particularly, considering the roles and responsibilities of leaders looking ahead.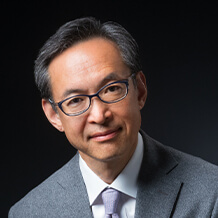 Prof. Tetsuya Shiokawa
Professor, Shizenkan University
Former Executive Director, Japan, Xerox Corporation
Former Audit & Supervisory Board Member, Fuji Xerox
External Board of Director, Learning Edge Co., Ltd.
External Board of Director, Waibi Co., Ltd.
NASC International Co., Ltd. Executive Advisor
Graduating Kyoto University, BA in Law 1983, Shiokawa started career at Foods Group, Mitsui Co., Ltd, involved in trading edible alcohol etc. He gained MBA at Harvard Business School in 1996 and returned to Mitsui as leader of strategic investment team of Foods Group, involved in M&A and subsidiaries management. In 1999, he took lead in merger deal of Sanyu Shokuhin and Koami, which became current Mitsui Foods Co., Ltd .
In 2000, he joined GE Capital, involved in M&A and took lead in both acquisition and divestiture deals. He became board member & deputy president at GE Fleet Services, leading sales & marketing in 2006.
2007-Nov. 2019, He joined Xerox Corporation as executive director in Japan, in parallel, acting as audit & supervisory board member of Fuji Xerox, involved in overall management of the company. He was deeply involved in Fuji-Xerox merger during 2017~2018, though the deal didn't come through.
Leveraging on experience in both Japanese and global companies, he gained capabilities of global strategy and management and leadership. He was strongly interested in growing next generation of whole-person leaders and involved in founding Shizenkan University in 2017~18.