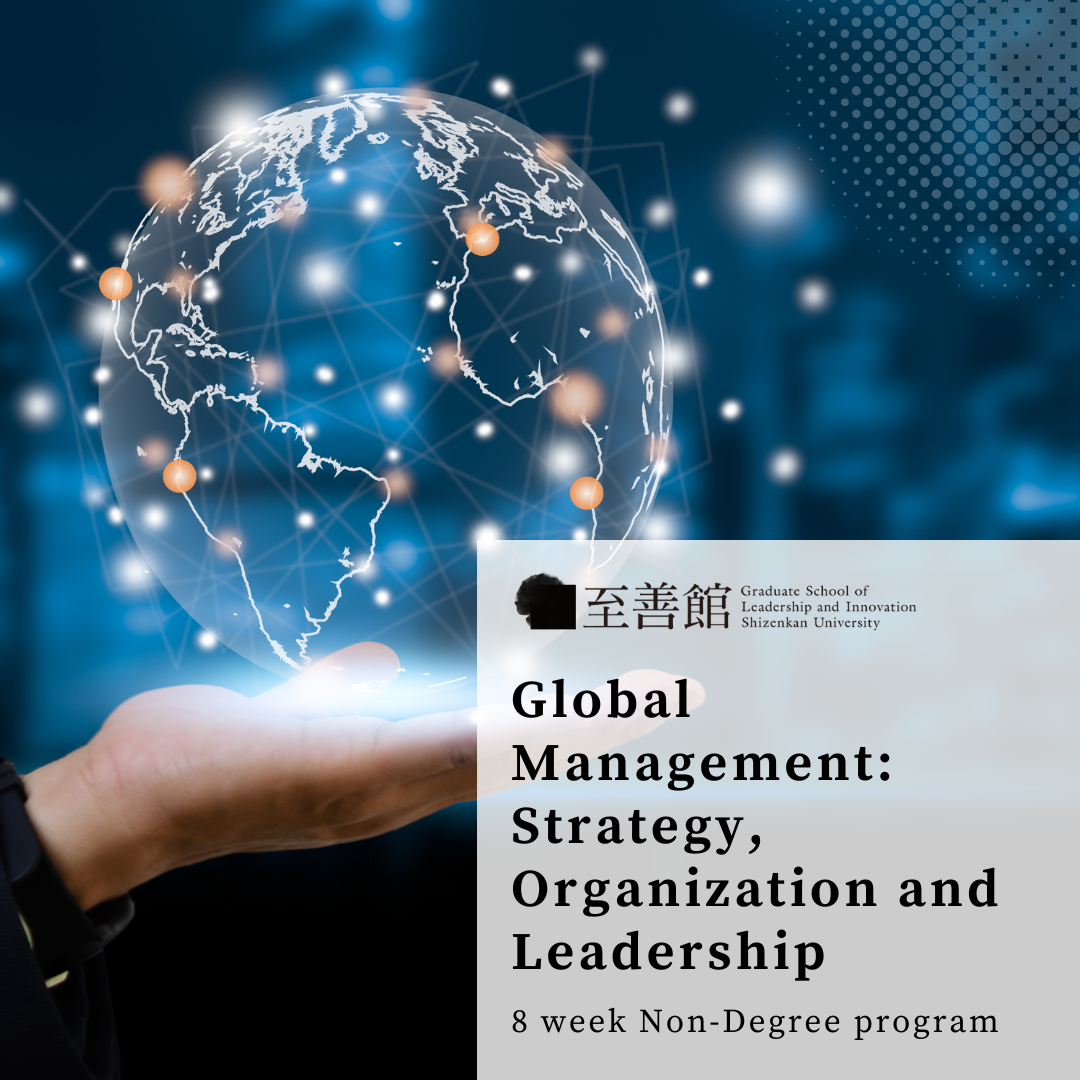 We are pleased to announce that the Graduate University Shizenkan is now accepting applications for non-degree students.
[Non-degree program]
The Non-degree program is a system that allows non-Master's students to take some of the courses offered by Shizenkan's Professional Master's Program on a course-by-course basis. Students who complete the coursework can earn credits. Courses can be taken in advance of enrollment in the graduate school and will be recognized as credits required for graduation at the time of enrollment.
The course being offered this time is "Global Strategy, Management, and Leadership". Other courses will be offered in the future (please refer to the bottom of this page).
[Course description]
Shizenkan University offers a non-degree, credited course, [Global Management: Strategy, Organization, and Leadership]. You will take the course along with Shizenkan's MBA students and receive credits and a certificate upon completion. The course teaches you key concepts of global management such as global integration vs. local responsiveness, different forms of global organization, cultural intelligence, and global leadership. This course fully utilizes case method, so you will have lively discussions with other participants and lecturers, which allows you to connect concepts with practical situations.
[Faculties]
[Overview]
| | |
| --- | --- |
| Course name | Global Strategy, Management, and Leadership |
| Course period | Fri, Sep 8th – Tue, Oct 31st, 2023  |
| Language | English |
| Number of slots | Approximately 2  |
| Format | Online via Zoom  (only the final exam will be held at the Shizenkan campus) |
| Deadline for the application | 12:00 pm, Tue, Aug 15th, 2023 (JST) |
| Number of credit | 2 credits |
| Selection period | Wed, Aug 16th – Fri, Aug 18th, 2023 (Document screening and interview) |
| Fees | 230,000 JPY (Enrollment fee 30,000 JPY and Tuition fee 200,000 JPY) |
[Voicies from the past program participants]
"One of the best courses I had in Shizenkan, thanks to all the active class participation, post class sharing as well as the great teaching by the three professors … The cases provided in the course are very interesting and they made me easily connecting to my current company situation."(Class of 2023)
"The course was very unique and relevant. It gave me an idea of how global leaders think and take decisions. This course has definitely helped me improve my critical thinking ability. The case studies used were recent and super interesting. Overall, I think it was an outstanding course."(Class of 2023)
[Class schedule]
| | | |
| --- | --- | --- |
| Session 1 | Fri, Sep 8th 18:30−21:45 (JST) | Key Challenges that Leaders Face in Global Business Environment |
| Session 2 | Fri, Sep 15th 18:30−21:45 (JST) | Understanding the Key Framework for Global Strategy: Global Integration vs. Local Responsiveness |
| Session 3 | Wed, Sep 20th 18:30−21:45 (JST) | Dealing with the Tension between Headquarters and Subsidiaries |
| Session 4 | Wed, Sep 27th 18:30−21:45 (JST) | Designing Collaborative Networks between Subsidiaries |
| Session 5 | Mon, Oct 2nd 18:30−21:45 (JST) | Facilitating Learning and Innovation in Global Organizations |
| Session 6 | Fri, Oct 6th 18:30−21:45 (JST) | Cross-Cultural Management in MNCs |
| Session 7 | Tue, Oct 17th 18:30−21:45 (JST) | Managing Cross-Border M&A |
| Session 8 | Wed, Oct 25th 18:30−21:45 (JST) | Living as a Global Leader |
| Final Exam | Tue, Oct 31st 18:30−21:45 (JST) | |
[Other Non-degree Courses Offerings]
Course Name
Language
Course Start Date
Announcement Period

Global Management: Strategy, Organization and Leadership

English

September/October 2023

July 2023

Entrepreneurship and Business Start-up

English

November/December 2023

September 2023

Creating Impact Business and Ecosystems

Japanese

November/December 2023

September 2023

Platform Strategy

Japanese

November/December 2023

September 2023

Creating and Managing Social Impact

Japanese

January/February

2024

November 2023

Creating and Managing Social Impact

English

January/February

2024

November 2023

Leadership and Negotiation

Japanese

January/February

2024

November 2023

Leadership and Negotiation

English

January/February

2024

November 2023
Contact us
Admissions Office, Graduate School of Leadership & Innovation, Shizenkan University
Address: Nihonbashi Takashimaya Mitsui Building 17F
2-5-1 Nihonbashi Chuo-ku Tokyo 103-6117 Japan
Tel: +81-3-6281-9011
E-mail: admissions-non-degree@shizenkan.ac.jp