TOKYO – On June 18th, Shizenkan University held its third Commencement Ceremony at its Nihonbashi campus. This was the first offline graduation ceremony since the opening of school in 2018, as the previous two graduation ceremonies were held virtually due to the coronavirus pandemic.
Thirty-seven students from the Japanese class and 30 students from the English class, all robed in academic gowns, received their Master of Business Administration in Design and Leadership for Societal Innovation (MBA) degrees.
The students were cheered on by many supporters, including Shizenkan's founder, Chairman of the Board of Trustees and President, Dr. Tomo Noda, as well as Shizenkan's board members and Alumni Secretariat representatives.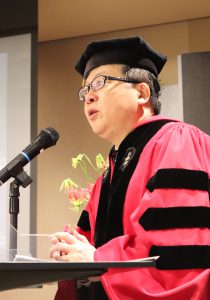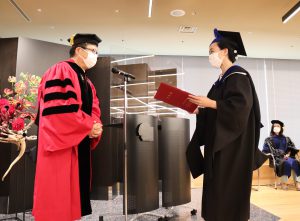 During the ceremony, each student presented three key words that symbolized his or her leadership journey based on the past two years of study. In a somber but inspirational atmosphere, several heartwarming stories were shared.
We congratulate all of you as you embark on your individual journeys toward becoming holistic management leaders!
[Outstanding Student Awards]
Shizenkan bestows Academic Distinction and Leadership Distinction to the top 15% of student achievers in acquisition of skills/abilities and demonstration and practice of whole person management leadership, respectively. Academic Distinction is selected based on the grades (S/A/B/C/F) of all courses taken throughout the program, and Leadership Distinction is selected based on votes after the final individual seminar presentations. Academic Distinction and Leadership Distinction include the following graduates (in alphabetical order).
<Academic Distinction>
●English Class
– Daimyo, Atsushi
– Gani Rodriguez, Slimane
– Ly, Jean-Louis
– Noury, Marwan Alexandre
– Sabornay, Ricky Aringo
●Japanese Class
– Harada, Mirai
– Kurosawa, Makoto
– Matsumoto, Tomoyuki
– Morii, Yuki
– Negi, Yoshiaki
– Takeda, Shinya
<Leadership Distinction>
●English Class
– Gani Rodriguez, Slimane
– Nolledo, Brainard Ritual
– Noury, Marwan Alexandre
– Sabornay, Ricky Aringo
– Syed, Humaira
●Japanese Class
– Harada, Mirai
– Ishikawa, Mieko
– Futamura, Yasuko
– Morii, Yuki
– Negi, Yoshiaki
– Oda, Yohei