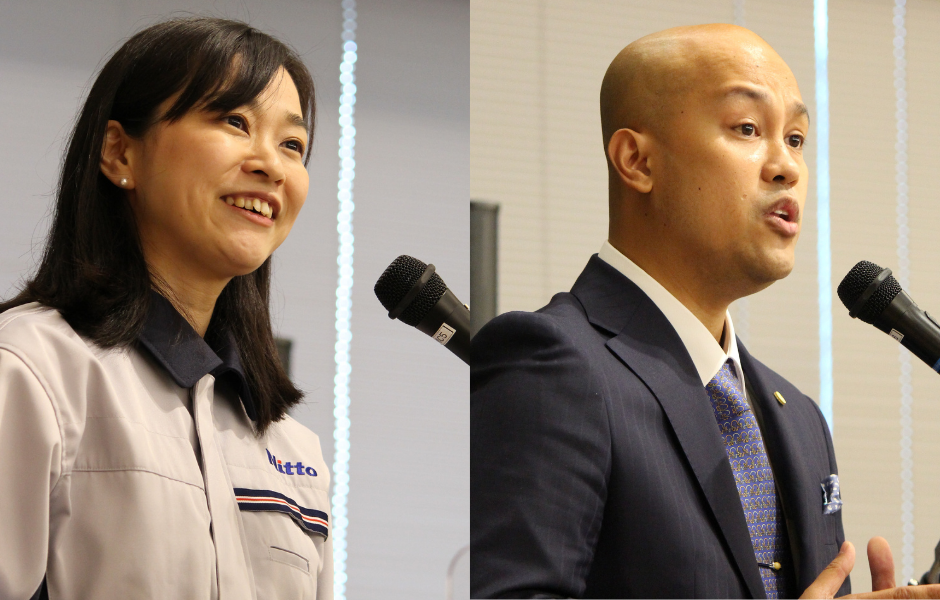 (Left:Mieko Ishikawa、Right:Ricky Sabornay)
Over the weekend of May 7th and 8th, the selected seminar finalists of both the Japanese and English Classes of 2022 presented their research projects. As the culmination of the senior students' work to graduate, it is one of the most anticipated events of the academic year, and 2022 was the first time in Shizenkan's history that this momentous event could be held in person on campus.
 As expected, the excitement and anticipation among the on campus participants was palpable and could also be felt from those participating online via Zoom through their many warm messages of support and cheers that echoed through the chatbox. 
The Research Seminar is the seminal learning output for Shizenkan students, and includes a 8-month period of painstaking individual research and close collaboration with faculty leaders and seminar mates, as students develop a business plan for their own passion project or entrepreneurial dream, which they later present before their peers and faculty. 
Their goal is to gain the empathy and trust of their audience in order to build support for their business venture, and through this practical experience many students have gone on to successfully bring their ideas to fruition after graduation.
Finalists at the conference are able to present their projects before a large audience, and these participants then vote on the presenter who garnered the most empathy and trust from their point of view. Afterwards, the votes are tallied, and this year, the following Class of 2022 students were chosen as the top 3 representing their seminar groups and classmates.  
EN Class
Ricky Sabornay

Brainard Ritual Nolledo 

Marwan Noury 
JP Class
Mieko Ishikawa

Yoshiaki Negi

Yasuko Futamura
Congratulations to the above students and their seminar groups! The Shizenkan community of faculty, administration staff, alumni, current students, and various supporters were blown away by the high level of quality and diversity of topics among the presentations this year.  Undoubtedly, these students along with their classmates are on to bigger and better things after their graduation next month, and we cannot wait to follow the progress of their projects into the future.