SOLIT, Inc, an all-inclusive fashion brand founded by Misaki Tanaka, a 2021 graduate of Shizenkan, received the 2022 GOLD AWARD at the iF DESIGN AWARDS (Germany), one of the most prestigious design awards in the world.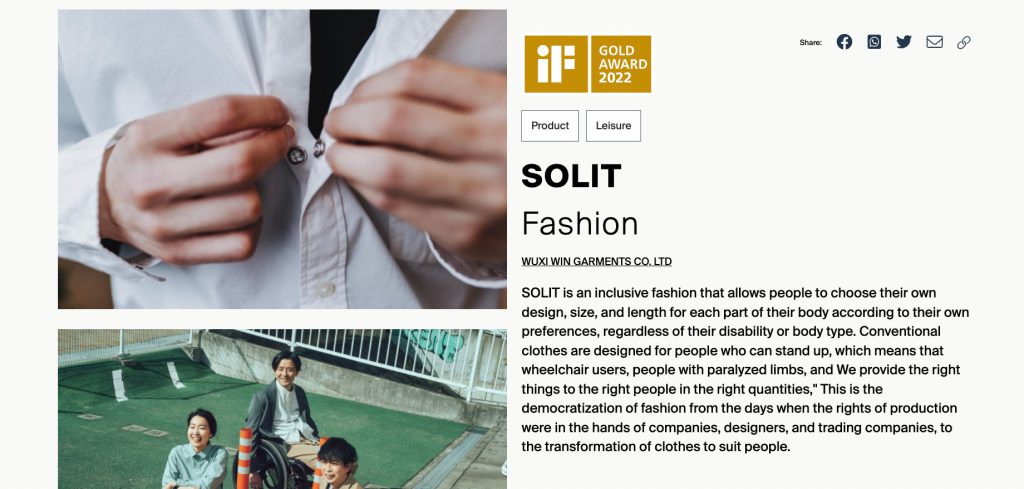 In the "Creative and Innovative Methods for Envisioning" class during the second semester of her first year in the Shizenkan MBA program, Misaki Tanaka had an image of the prototype of SOLIT, and later started SOLIT while still a student. The business model was brushed up during the seminar project in her second year at Shizenkan. At the graduation presentation, Misaki Tanaka presented her vision of SOLIT and won the Grand Prize.
SOLIT also won the Silver Award in the Fashion Design category at the IAUD International Design Awards, sponsored by the International Association for Universal Design, and the Showing Perspective of Co-creation Prize at the crQlr Awards (Circular Awards).
iF DESIGN AWARD: https://ifdesign.com/en/
SOLIT Corporation: https://solit-japan.com/