The Kurishima Masakazu Scholarship was established with the support of voluntary donations with the aim of nurturing future leaders who embody the will and vision of the late Mr. Masakazu Kurishima. We spoke with the first recipient of the Kurishima Masakazu Scholarship, Saki Tanaka, who enrolled in August of this year.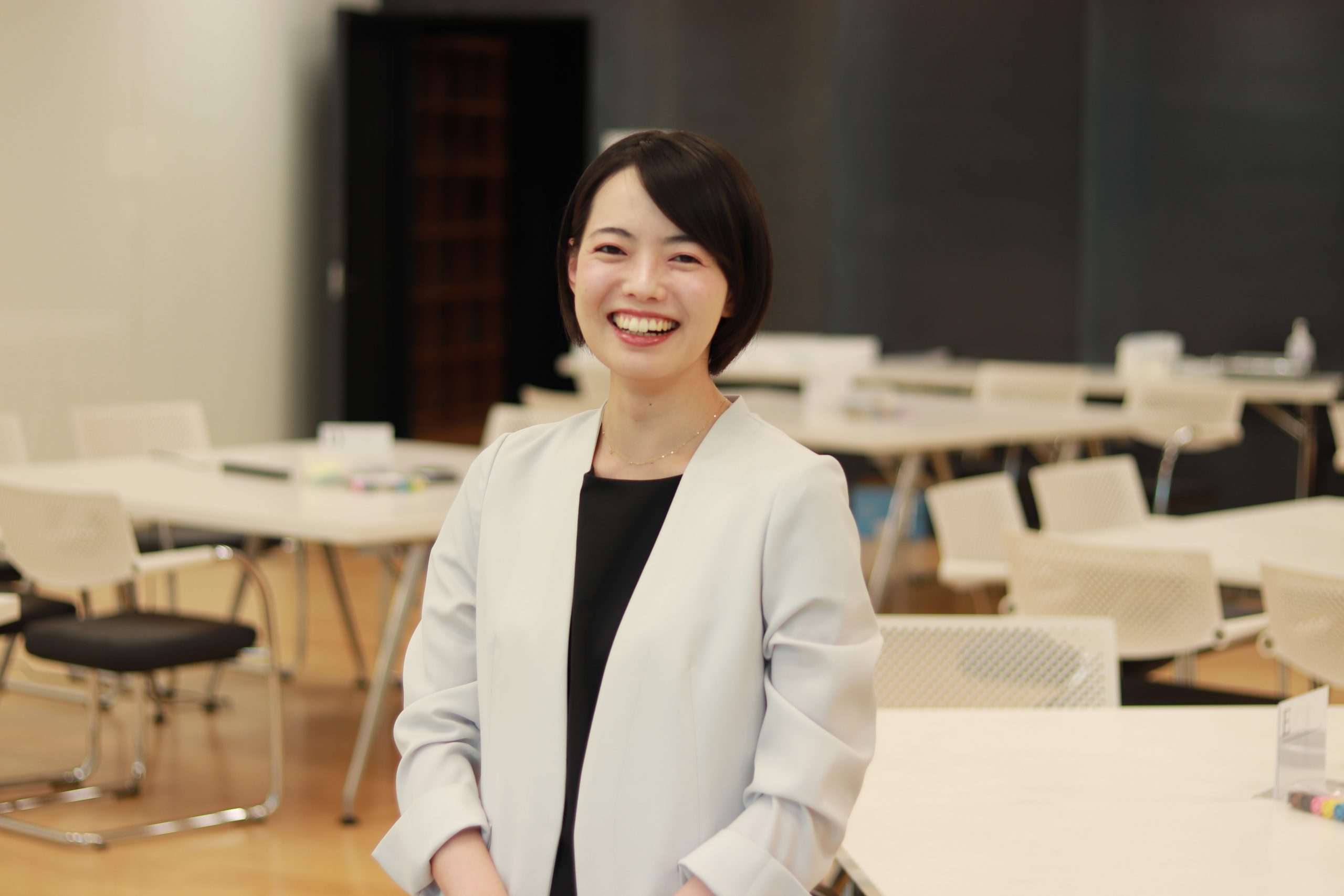 − First of all, please introduce yourself.
My name is Saki Tanaka, I am from Tokyo, Japan. After graduating from university, I worked for a Japanese pharmaceutical company. I have been working as a medical representative (MR) for 7.5 years in Tochigi prefecture, and after that, I have been working at the head office in the department in charge of alliance management and the department that examines the introduction of new vaccines.
− Why did you decide to apply to Shizenkan?
When I started working at the head office, I had more opportunities to think about company-wide management and began to feel that I needed to learn more. At the same time, I met a supervisor at the head office who I really respected not only as a company employee but also as a person in terms of her thinking, words, and actions. She had an MBA, and when I saw how she always spoke from a higher perspective and from different angles, and how she managed to organize the various complex elements of her talk, I wanted to be like her, and I began to develop an interest in getting an MBA.
I heard about Shizenkan from a mentor of mine who graduated from the leadership program at ISL, the founding organization of Shizenkan University.
I looked at Shizenkan's website, and questions such as "What is my purpose in life?" "Who am I?" attracted me to Shizenkan's unique program. The tuition is quite expensive, and I was worried and thought about it for about 3 months. During this time, I attended several admissions events and consulted with the admissions staff at Shizenkan before deciding to apply.
− It's only been two weeks since you enrolled, but what have you learned/noticed so far?
The interview selection process at Shizenkan was unique, and I was not able to speak well at all, so I am nervous every day thinking that people who have gone through such a difficult selection process are gathered here. The orientation included a lot of work that broadened my perspective, and the discussions with my classmates made me realize that my ideas were very shallow.
− What prompted you to apply for the Kurishima Masakazu Scholarship?
Actually, before I applied to Shizenkan, there was a time when I gave up on my application because I was not confident that I would be able to pay the tuition fees over two years. At that time, the person who introduced me to Shizenkan told me about the Kurishima Masakazu Scholarship. It is a very attractive scholarship that provides full tuition support, but at first I did not think that I was qualified to apply.
However, when I attended the final seminar presentation held at Shizenkan and heard the Shizenkan students' confident and wonderful speeches, I felt strongly that "In two years I want to be like them!", I decided to apply to Shizenkan and for the Kurishima Masakazu Scholarship.
− What did you think when you heard that you would be awarded the scholarship?
I really wondered if I was the right person to receive this scholarship, but I felt that this was a promise made between me and Kurishima san, and I felt as if I had one more responsibility. Since I have been given this opportunity, I strongly believe that I will continue to put forth my utmost effort and make it two years that I will never regret.
− What is your aspiration for the next two years?
I would like to help patients suffering from intractable diseases by introducing new medicines to Japan that many people need. I also want to give back to the medical industry that helped me grow up. I still remember a respected doctor I met when I was a medical representative in Tochigi Prefecture telling me, "There is a future that can be saved with medicine." In the future, I would also like to be able to go beyond the boundaries of the pharmaceutical industry and work in new areas such as education, which has always been an interest of mine.
− What would you say to the candidates who are going to apply for the Kurishima Masakazu Scholarship?
Tuition at Shizenkan is more expensive, compared to other business schools in Japan. However, Shizenkan offers very generous support, different kinds of scholarships, including the Kurishima Masakazu Scholarship. It would be a waste not to apply simply due to financial concerns. My advice is to contact Shizenkan's admissions office.
(August 31, 2023)
[Reference link]
 Click here to consult with us about Admissions
[Inquiries]
 Admissions Office, Shizenkan University
 Address: 17F Nihonbashi Takashimaya Mitsui Building, 2-5-1 Nihonbashi, Chuo-ku, Tokyo 103-6117
 E-mail: admissions@shizenkan.ac.jp