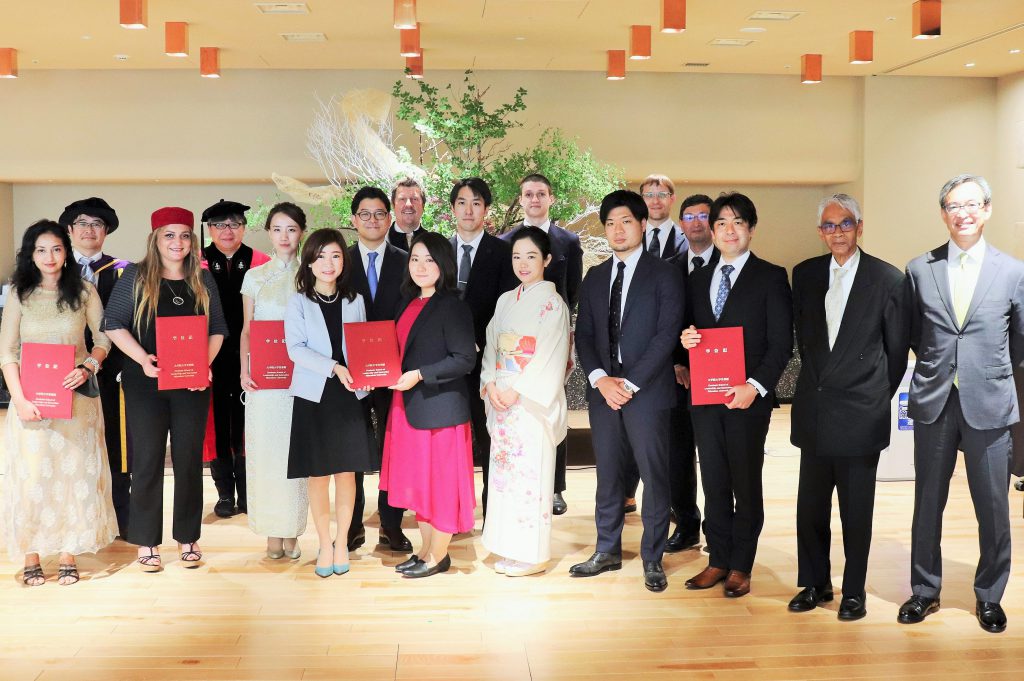 TOKYO—- On Saturday, May 29, we celebrated the graduation of the Class of 2021 with offline and virtual ceremonies.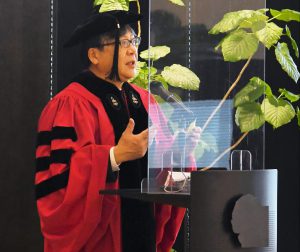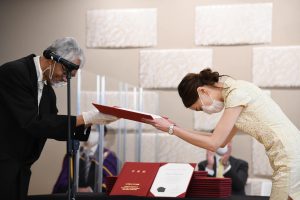 The graduates also had the privilege of hearing opening remarks from President Monte Cassim, final well wishes from the Founder and Chair, Dr. Tomo Noda, and many other supporters, including the leaders of the Shizenkan Alumni Secretariat, assuring them that their leadership journey with Shizenkan was not over and there would be many opportunities to collaborate with classmates and the larger network for years to come.
After tuning in together for the live ceremony, students trickled onto the Nihonbashi campus in small groups of 4-5 with their Research Seminar classmates to receive their graduation certificates in person and take photos with beloved faculty and supporters. Even amid an ongoing pandemic, Shizenkan graduates found ways to celebrate their big day with safety in mind.
Many thanks to the distinguished guests who gathered with warm messages and support to these fresh MBA degree holders and congratulations to class of 2021!
[Outstanding Student Awards]
Shizenkan bestows Academic Distinction and Leadership Distinction to the top 15% achievers in acquisition of skills/abilities and demonstration and practice of whole person management leadership, respectively. Academic Distinction is selected based on the grades (S/A/B/C/F) of all courses taken throughout the program, and Leadership Distinction is selected based on the votes after the final individual seminar presentations. Academic Distinction and Leadership Distinction are the following people (in alphabetical order).
<Academic Distinction>
●English Class
– Chihiro Eikyu
– Kazura Koda
– Naomi Oshino
– Yoshifumi Tachi
– Thomas Linda E. Veraart
●Japanese Class
– Yo Akiyama
– Kazuki Gawazawa
– Toshihiro Horio
– Ichita Sakinawa
– Yoshikazu Takagi
– Misato Tanaka
– Kohei Tsutsumi
– Takeshi Yamaguchi
<Leadership Distinction>
●English Class
– Abdul Hameed HASHIMI
– Kazura Koda
– Abdulraheem M. A. Alawneh
– Eias Satria Setiawan
– Yoshifumi Tachi
●Japanese Class
– Yo Akiyama
– Ryuta Furusawa
– Yohei Moriyasu
– Ichita Sakinawa
– Misato Tanaka
– Takeshi Yamaguchi
– Linlin Zhao